Take this quiz on Justin Bieber and check how much do you know about him?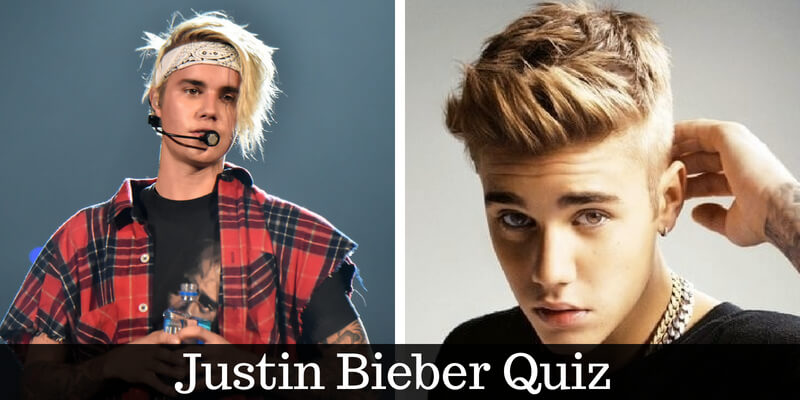 Justin Bieber has published numerous number of hits and records,He is one of the youngest and beautiful singer.Take this quiz to explore more about him.
Q1: What is Justin Bieber's middle name
A. Drew
B. Luke
C. Drake
D. Jake
Q2: Which language does he speak more fluently other than his mother tongue
A. Spanish
B. French
C. Arabic
D. Russian
Q3: Who did Justin dated before Selena Gomez
A. Kendall Kardashian
B. Jasmine Villegas
C. Jessica Jarrell
D. None
Q4: Why was Justin arrested in 2014
A. DUI,drag racing and resisting arrest
B. DUI
C. For taking Drugs
D. For Hitting a person
Q5: In which year did Justin Bieber won his first Grammy
A. 2010
B. 2015
C. 2016
D. 2014
Q6: Name the star to whom Justin refer as his "little bro"
A. Codey Simpson
B. Jaden Smith
C. Greyson Chance
D. None
Q7: Which famous actor is the mentor of Justin Bieber
A. Russell Crowe
B. Al Pacino
C. Nicolas Cage
D. Will Smith
Q8: Which of the following musical instruments Justin Bieber can play
A. Drums
B. Guitar
C. Piano
D. All of the above
Q9: Which one of his videos held the title for the most dislikes on internet for a while
A. One time
B. Byfriend
C. Baby
D. Sorry
Q10: To whom did Justin got engaged recently
A. Hailey Baldwin
B. Selena Gomez
C. Jessica Jarrell
D. Mandy Rain