Take this quiz and see how well you know about Abdullah II??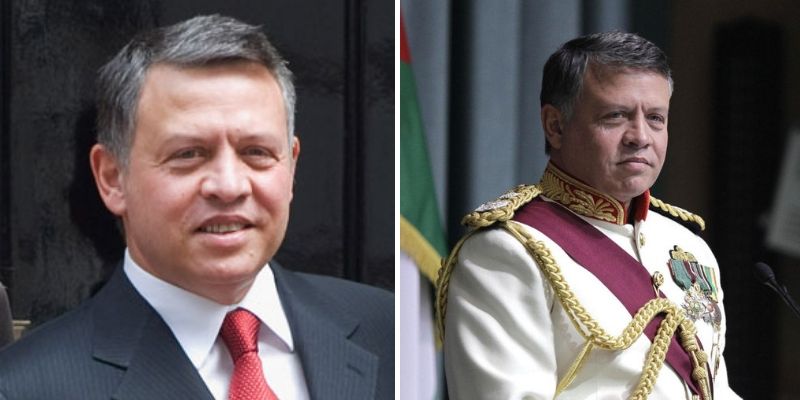 Abdullah II has been King of Jordan. Abdullah was heir apparent until Hussein transferred the title to Abdullah's uncle, Prince Hassan, in 1965.
Author : Agniva Bhowmick
Posted On : 10-Jun-2019
Q1: What is the full name of Abdullah II?
A. Abdullah II -Hussein
B. Abdullah II bin
C. Abdullah II bin Al-Hussein
D. Abdullah II bin -Hussein
Q2: When was he born?
A. 30 January 1960
B. 30 January 1963
C. 30 January 1962
D. 30 January 1961
Q3: When he had been king of jordan?
A. 2002
B. 2001
C. 2000
D. 1999
Q4: Where was he born?
A. Unana
B. Amman
C. Imann
D. Eman
Q5: When did he begin his military career?
A. 1988
B. 1980
C. 1978
D. 1986
Q6: When did he become major general?
A. 1992
B. 1994
C. 1996
D. 1998
Q7: How many brother and sister he has?
A. 4 brothers and 6 sisters
B. 3 brothers and 5 sisters
C. 3 brothers and 7 sisters
D. 4 brothers and 8 sisters
Q8: Which award was given by Austria to him?
A. Collar of the Order of al-Khalifa
B. Grand Star of the Decoration of Honour for Services to the Republic
C. Collar of the Royal Family Order of the Crown
D. Order of the White Lion, First Class
Q9: When did he get honorary degree Doctorate in political sciences, University of Jordan?
A. 1 January 2001
B. 3 September 2004
C. 21 March 2005
D. 15 December 2005
Q10: When was he awarded by Peacemaker Award, Seeds of Peace?
A. 8 May 2000
B. 8 May 2007
C. 8 May 2006
D. 8 May 2005