This quiz will tell you how much do you possess knowledge about art and culture?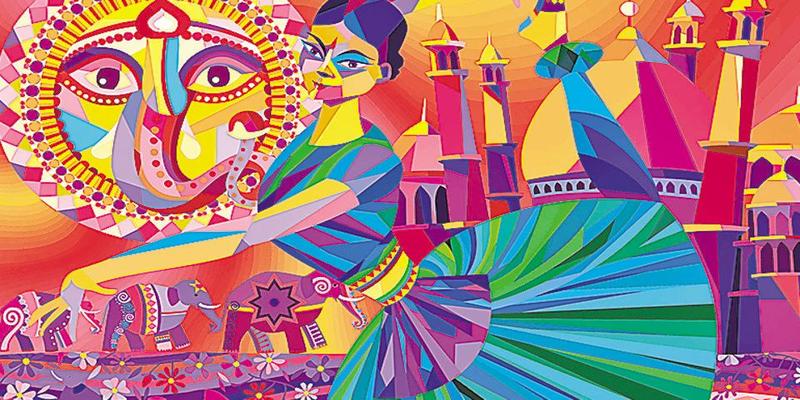 This quiz will tell you how much do you possess knowledge about art and culture
Author : Adiyogi Quiz Master
Posted On : 07-Mar-2018
Q1: In which State is the religious festival Ganesh Chaturthi celebrated with gusto?
A. Rajasthan
B. Gujarat
C. Maharashtra
D. Madhya Pradesh
Q2: Which of the following combinations of the States and the festivals mainly celebrated there is not correct?
A. Rajasthan - Gangaur
B. Gujarat - Durga Puja
C. Maharashtra - Ganesh Chaturthi
D. Uttar Pradesh - Krishna Janmashtami
Q3: Nand Lal Bose, Manjit Bawa, Tyeb Mehta are
A. Classical Singers
B. English Poets
C. Photographers
D. Painters
Q4: The Desert Festival, an annual event in Rajasthan that displays local folk arts and culture, aerobatics, camel races, is held at
A. Jodhpur
B. Jaisalmer
C. Barmer
D. Bikaner
Q5: Raja Harishchandra, an early Indian film was produced by
A. Dada Saheb Phalke
B. Ashok Kumar
C. Ardeshir Irani
D. Gurudatt
Q6: Yavanika or curtain was introduced in Indian theatre by which of the following?
A. Shakas
B. Greeks
C. Huns
D. Persians
Q7: Who among the following is a distinguished actor as well as recipient of Jnanpith Award (the highest literary award in India)?
A. Vijay Tendulkar
B. Kaifi Azmi
C. Javed Akhtar
D. Girish Karnad
Q8: Homi Vyarawalla is acclaimed as India's first -
A. Lady Painter
B. Lady Photojournalist
C. Lady Kathak Dancer
D. Lady Playback singer
Q9: Ikebana is Japanese art of :
A. paper craft
B. dress designing
C. miniature tree farming
D. flower arrangement
Q10: Who is the voice behind the audio book "Wings of Fire" written by former President APJ Abdul Kalam?
A. Om Puri
B. Amitabh Bachchan
C. Girish Karnad
D. Harish Bhimani