Take this quiz and see how well you know about Barham Salih??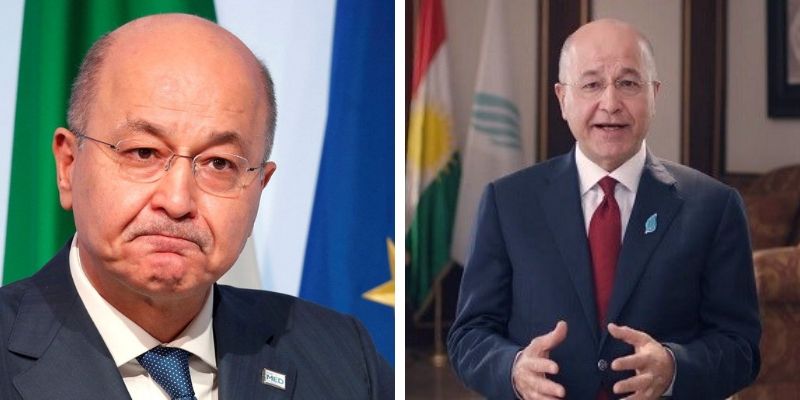 Barham Salih is the current President of Iraq. He is the former prime minister of the Kurdistan Regional Government of Iraqi Kurdistan and a former deputy prime minister of the Iraqi federal government.
Author : Agniva Bhowmick
Posted On : 22-May-2019
Q1: What is the middle name of Barham Salih?
A. Mohammad
B. Sultan
C. Khalif
D. Ahmed
Q2: When was he born?
A. 11 July 1960
B. 12 July 1960
C. 13 July 1960
D. 14 July 1960
Q3: What is his rank as president of Iraq?
A. 10th
B. 11th
C. 12th
D. 13th
Q4: When did he become president of Iraq?
A. 4 October 2018.
B. 3 October 2018.
C. 2 October 2018.
D. 1 October 2018.
Q5: When was he arrested for charging of involvement in the Kurdish national movement by taking some photos of protestors in Sulaimaniya ?
A. 1979
B. 1980
C. 1981
D. 1982
Q6: In which group did he join in late 1976
A. Patriotic Union of Kurdistan
B. Democratic party
C. Red Front
D. Patriotic Union of Iraq
Q7: When did he become Deputy Prime Minister in the Interim Iraqi Government?
A. mid-2005
B. mid-2004
C. mid-2003
D. mid-2002
Q8: When was he appeared on The Colbert Report?
A. 13 June 2009
B. 12 June 2009
C. 11 June 2009
D. 10 June 2009
Q9: With how many votes was he elected as president?
A. 220 votes
B. 219 votes
C. 198 votes
D. 212 votes
Q10: In which year did he obtain a Doctorate degree in Statistics and Computer Applications in Engineering from the University of Liverpool?
A. 1985
B. 1986
C. 1987
D. 1988