Take this quiz and see how well you know about Bertrand Russell??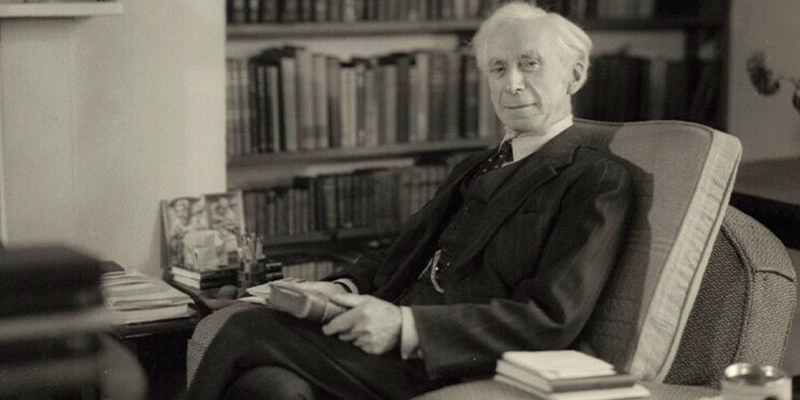 Bertrand Russell was a British philosopher, logician, mathematician, historian, writer, essayist, social critic, political activist, and Nobel laureate.
Author : Agniva Bhowmick
Posted On : 10-Aug-2019
Q1: What is the full name of Bertrand Russell?
A. Bertrand Arthur William Russell
B. Bertrand William Russell
C. Bertrand Arthur Russell
D. Bertrand Arthur Conaldoil Russell
Q2: When was he born?
A. 17 May 1871
B. 18 May 1872
C. 17 May 1873
D. 16 May 1874
Q3: In which year was he awarded by Nobel Prize in Literature?
A. 1948
B. 1949
C. 1950
D. 1951
Q4: What was the name of his first published book?
A. Authority and the Individual
B. Power: A New Social Analysis
C. The Principles of Mathematics
D. German Social Democracy
Q5: In which subject was he distinguished?
A. Mathematics
B. Economics
C. Literature
D. Physics
Q6: In which year did he write 'On Denoting'?
A. 1904
B. 1905
C. 1906
D. 1907
Q7: How many years did he take to write "Principia Mathematica"?
Q8: Which book did he write in 1965?
A. On the Philosophy of Science
B. The ABC of Relativity
C. War Crimes in Vietnam
D. The Autobiography of Bertrand Russell
Q9: In which year did he write "The Problem of China"?
A. 1920
B. 1921
C. 1922
D. 1923
Q10: What was the name of his last book?
A. On the Philosophy of Science
B. The ABC of Relativity
C. Russell's Peace Appeals
D. Dear Bertrand Russell