Take this quiz and see how well you know about Durga Puja??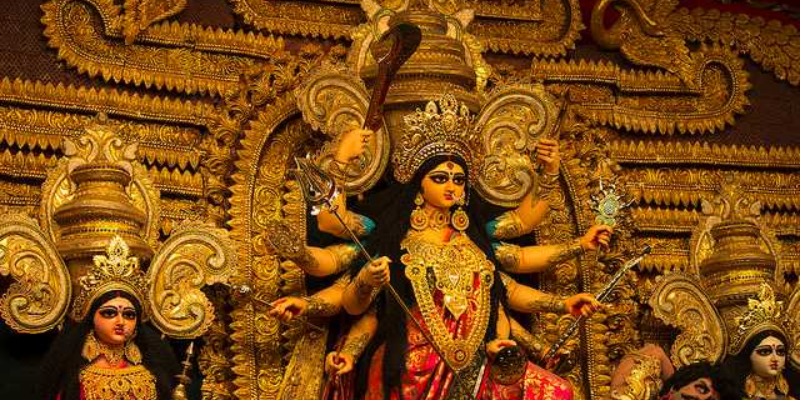 Durga Puja is an annual Hindu festival originating in the Indian subcontinent which reveres and pays homage to the Hindu goddess, Durga. The festival is observed in the Indian calendar month of Ashwin, which corresponds to the months of September-October in the Gregorian calendar.
Author : Agniva Bhowmick
Posted On : 03-Oct-2019
Q1: Which religion does celebrate Durgapuja?
A. Hindu
B. Muslim
C. Christan
D. Jain
Q2: Who started the practice of worshipping Goddess Durga in autumn, better known as 'Akal Bodhon'?
A. Bharat
B. Ravan
C. Vishnu
D. Ram
Q3: Before Akal Bodhon practice started, Durga was worshiped in March called as Basanti Puja. Who did start?
A. King Harishchandra
B. King Suratha
C. King Bharat
D. King Vikramaditya
Q4: The first Durga tradition was started by King Surath thousands years ago. It was also first in Bengal as well as in India. Where was its capital?
A. Sutanuti
B. Kolkata
C. Bolpur
D. Durgapur
Q5: In which country is Durga Puja celebrate for 15 days and is called Dashain?
A. Sri Lanka
B. Nepal
C. Bangladesh
D. Bhutan
Q6: In which century was Durga Puja festival started?
A. 15th Century
B. 16th Century
C. 17th Century
D. 18th Century
Q7: The first day of Navratri is dedicated to which form of Navdurga?
A. Maa Shailaputri
B. Maa Chandraghanta
C. Maa Brahmacharini
D. Maa Katyayani
Q8: The beginning of the year in January marks the celebration of the Sankranti or Pongal festival. What does this festival celebrate?
A. The end of Autumn
B. The new Year
C. The Harvest
D. The Beginning of Spring
Q9: Ghatasthapana is observed on which day of Navratri?
A. Sixth
B. Eighth
C. First
D. Fifth
Q10: Which Scripture is Associated with Navratri?
A. Varsha Purna
B. Bhagaved Gita
C. Devi Mahatmya
D. Yoga Vashitha