Take this quiz and see how well you know about Ernest Hemingway??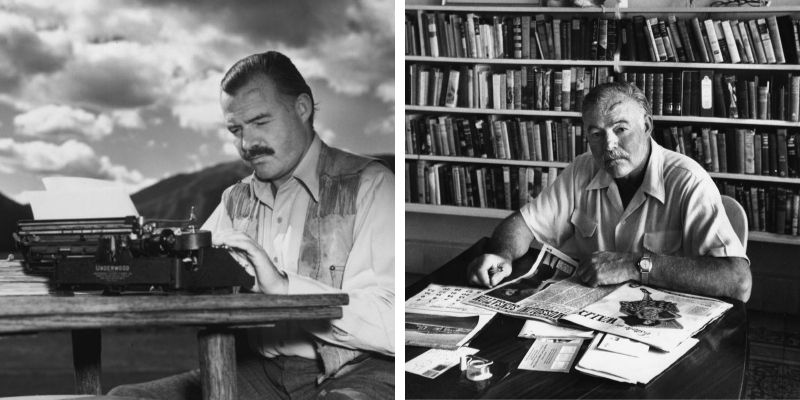 Ernest Hemingway was an American journalist, novelist, short-story writer, and sportsman. Many of his works are considered classics of American literature.
Author : Agniva Bhowmick
Posted On : 04-Jul-2019
Q1: What is the middle name of Ernest Hemingway?
A. Miller
B. Micheal
C. Jimmy
D. Andrue
Q2: When was he born?
A. July 21, 1900
B. July 24, 1890
C. July 21, 1899
D. June 21, 1899
Q3: In which year did he win Nobel Prize in Literature?
A. 1956
B. 1954
C. 1952
D. 1950
Q4: How many novels of Ernest Hemingway was published?
Q5: In which book did he describe the incident of World War 1?
A. The Old Man and The Sea
B. Death in the Afternoon
C. The Sun also Rises
D. A farewell to arms
Q6: At which age did he receive the Italian Silver Medal of Bravery?
Q7: What is the name of his first book?
A. The Old Man and The Sea
B. A farewell to arms
C. Death in the Afternoon
D. Three Stories and Ten Poems,
Q8: In which year 'In Our Time' was published ?
A. 1923
B. 1925
C. 1927
D. 1929
Q9: In how many weeks did he write the draft of The Old Man and the Sea?
A. Eight weeks
B. Ten weeks
C. Twelve Weeks
D. Fourten Weeks
Q10: In which year was he inducted into the Chicago Literary Hall of Fame?
A. 2006
B. 2008
C. 2010
D. 2012