Take this quiz and see how well you know about George W. Bush??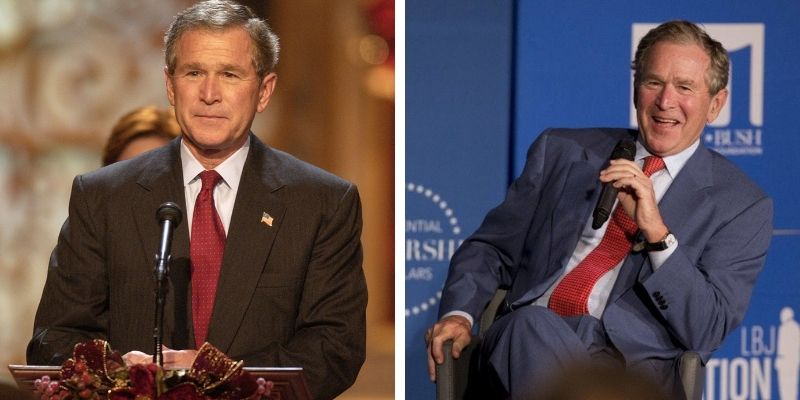 George W. Bush is an American politician and businessman who served as the 43rd president of the United State, He is the only U.S. president to have earned an MBA.
Author : Agniva Bhowmick
Posted On : 04-Aug-2019
Q1: What was the middle name of George W. Bush?
A. Walker
B. Walter
C. Wammy
D. Winter
Q2: When was he born ?
A. July 5, 1945
B. July 6, 1946
C. July 7, 1947
D. July 8, 1948
Q3: What was the period of serving presidentship in America?
A. 1985 to 1993
B. 1993 to 2001
C. 2009 - 2017
D. 2001 to 2009
Q4: In which year was he publish his memoir, Decision Points?
A. 2009
B. 2010
C. 2011
D. 2012
Q5: With which fighter wing of the Alabama Air National Guard did he drill In late 1972 and early 1973?
A. 187th Fighter Wing
B. 190th Fighter Wing
C. 150th Fighter Wing
D. 287th Fighter Wing
Q6: How many times was he elected governor in Texas history in four year terms?
A. 1 times
B. 2 times
C. 3 times
D. 4 times
Q7: In how many states did he win in presidential election?
A. 33 states
B. 31 states
C. 29 states
D. 27 states
Q8: What was President George W. Bush's nickname?
A. Barry
B. W
C. Comeback Kid
D. The Great Communicator
Q9: Who did George W. Bush narrowly defeat in the hotly contested 2000 presidential election?
A. Al Gore
B. Ralph Nader
C. John Kerry
D. Bill Clinton
Q10: What terrorist attack prompted George W. Bush to invade the country of Afghanistan?
A. Boston Marathon Bombings
B. Oklahoma City Bombing
C. Bombing of Pan Am Flight 103
D. September 11 Attacks