Can you score 6/10 in this Hardik Pandya quiz?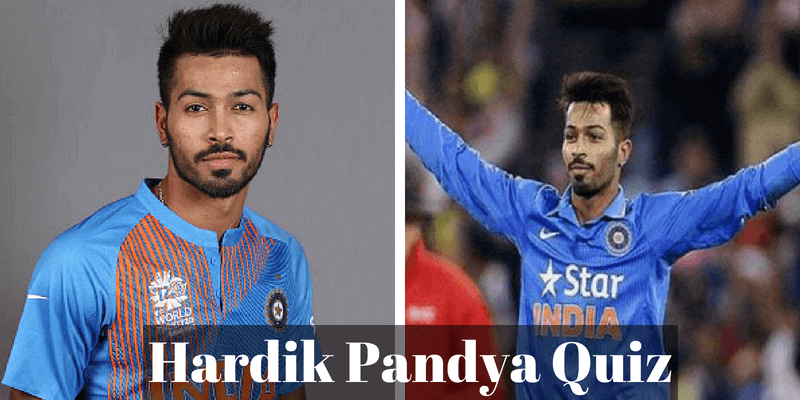 Can you score 6/10 in this Hardik Pandya quiz
Author : Adiyogi Quiz Master
Posted On : 25-Jun-2018
Q1: When was Hardik Pandya born?
A. 1st Oct 1993
B. 11th Oct 1993
C. 21st Oct 1993
D. 31stOctober 1993
Q2: For which team does Pandya play for in the domestic season?
A. Saurasthra
B. Gujrat
C. Baroda
D. Mumbai
Q3: Who is the childhood coach of Pandya?
A. Kiran More
B. Ajay Jadeja
C. Akash Chopra
D. Mohammad Kaif
Q4: What is the nickname Hardik got from his team-mates?
A. Rocky
B. Rockstart
C. Hairy
D. both2&3
Q5: After which domestic tournament Pandya caught the eye of the selectors?
A. Syed Mushtaq Ali Trophy
B. Ranji
C. Vijay Hazare Trophy
D. Deodhar Trophy
Q6: After failing in which class Pandya left studies to completely focus on cricket?
A. 10th
B. 12th
C. 9th
D. 8th
Q7: Which selector in Mumbai Indians suggested to buy Pandya in IPL?
A. John Wright
B. Jonty Rhodes
C. Ricky Ponting
D. Sachin Tendulkar
Q8: Against which teams did Pandya made his internationl cricket debut?
A. Sri Lanka
B. Bangladesh
C. Pakistan
D. Australia
Q9: At what price Pandya was retained in the 2018 IPL?
A. 8cr
B. 11cr
C. 7cr
D. 5cr
Q10: In Syed Mushtaq Trophy playing for how many runs did Pandya score in an over which is a record?