Only a cardiologist can secure full in this quiz about heart?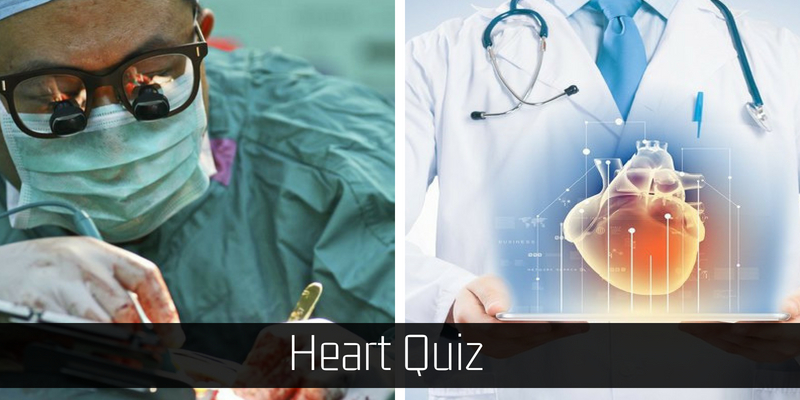 Only a cardiologist can secure full in this quiz about heart
Author : Adiyogi Quiz Master
Posted On : 25-May-2018
Q1: When a child is born, what happens to its blood circulation?
A. Its blood flows for the first time
B. Its blood reverses its flow through the heart
C. Its blood ceases to pass from one atrium to the other
D. Its blood carries wastes for the first time
Q2: What is the approximate time required for a heart-beat ?
A. 0.5 second
B. 0.8 second
C. 0.5 minute
D. 1.0 minute
Q3: Ventricles are related to
A. heart only
B. brain only
C. both ?a? and ?b?
D. none of these
Q4: Universal receivers can receive blood from
A. Group AB only
B. Group O only
C. Groups A, AB
D. Groups O, A, B, AB
Q5: Pulmonary artery carries
A. pure blood from lungs
B. pure blood to lungs
C. impure blood to lungs
D. impure blood from lungs
Q6: Ions of which of the following minerals play an important role in blood clotting?
Q7: What is the condition in which heart is not pumping the blood effectively to meet the requirements of the body called?
A. stroke
B. hypertension
C. myocardial infarction
D. heart failure
Q8: At which part of the intestines is the digested food absorbed by the blood?
A. Ileum
B. Colon
C. Jejenum
D. Caecum
Q9: Fastest distribution of some injectible material/medicine and with no risk of any kind can be achieved by injecting it into the
A. muscles
B. veins
C. arteries
D. lymph vessels
Q10: Where does the impulse of heart beat originate?
A. S.A. node
B. A.V. node
C. vagus nerve
D. cardiac nerve