How well you know Novak Djokovic??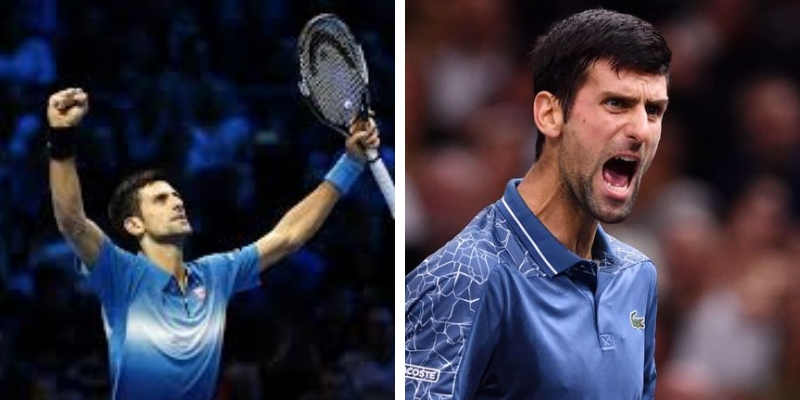 Novak Djokovic, who was one of the game premier performers in the early 21st century, Djokovic took up tennis at age four and quickly ascended the junior ranks. Despite the hardships that came with growing up in the war-torn Serbia of the 1990s, he became Europes top-ranked 14-and-under player and later the number one 16-and-under player on the continent before turning professional in 2003
Author : Agniva Bhowmick
Posted On : 18-Feb-2019
Q1: What is nationality of Novak Djokovic?
A. Jamaican
B. Iranian
C. Sarbian
D. Russian
Q2: How many Gland Slam single tittles he has won?
Q3: How many ATP World Tour Masters 1000 series titles he has won?
Q4: How many weeks he has hold the No. 1 spot in the ATP rankings?
A. 100 weeks
B. 150 weeks
C. 200 weeks
D. 230 weeks
Q5: Who is the first and only male player to have won all nine of the Masters 1000 tournaments?
A. Roger Federer
B. Rafael Nadal
C. Rod Laver
D. Novak Djokovic
Q6: In which he got BBC Overseas Sports Personality of the Year award?
A. 2007
B. 2009
C. 2011
D. 2013
Q7: When he was born?
A. 12 January 1988
B. 23 May 1989
C. 22 May 1987
D. 23 October 1990
Q8: What is Djokovic's nickname?
A. Joko
B. Jolly
C. Nova
D. Nole
Q9: Djokovic won his maiden Grand Slam title at which tournament?
A. Australia Open
B. French Open
C. US Open
D. Wimbleden
Q10: What result did Djokovic achieve at the Beijing 2008 Olympic Games?
A. Gold
B. Silver
C. Bronj
D. No medel