Take this questions about Sea and see how much you can score?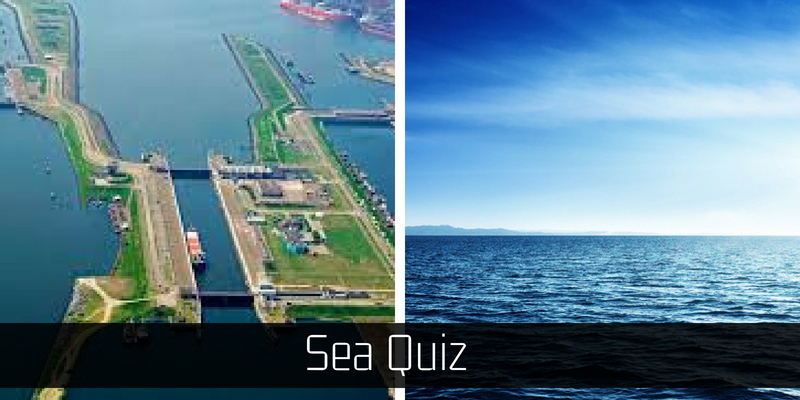 Take this questions about Sea and see how much you can score
Author : Adiyogi Quiz Master
Posted On : 25-May-2018
Q1: Tides in the sea are caused by
A. Effects of the moon
B. Effects of the sun
C. Sun and the moon
D. Gravitational centrifugal or centripetal forces
Q2: Which of the following oceans is between Africa and Australia?
A. Indian Ocean
B. Arctic Ocean
C. South Atlantic Ocean
D. South Pacific Ocean
Q3: The canal joining Baltic Sea to North Sea is
A. Neil Canal
B. Kiel Canal
C. Panama Canal
D. Suez Canal
Q4: Which of the following is the smallest ocean of the world?
A. Pacific
B. Indian
C. Atlantic
D. Arctic
Q5: Through which one of the following Straits, does a tunnel connect the United Kingdom and France?
A. Davis Strait
B. Denmark Strait
C. Strait of Dover
D. Strait of Gibraltar
Q6: Which one of the following countries is planning to construct a rival to the Panama Canal to link the Pacific and Atlantic Oceans?
A. Colombia
B. Costa Rica
C. Guatemala
D. Nicaragua
Q7: Sargasso Sea is a part of :
A. North Atlantic ocean
B. South Atlantic Ocean
C. North Pacific Ocean
D. North Sea
Q8: The Suez Canal connects -
A. Mediterranean and Red Seas
B. Baltic and Caspian Seas
C. Mediterranean and North Seas
D. Red Sea and Caspian Sea
Q9: The sea bed sloping gradually and bordering the continent is known as -
A. Coast
B. Continental Shelf
C. Continental Platform
D. Continental slope
Q10: The oceans cover ______ of the surface of the earth.
A. 50%
B. 60%
C. 71%
D. 80%