Take this Shankar Mahadevan quiz and check how much you can score?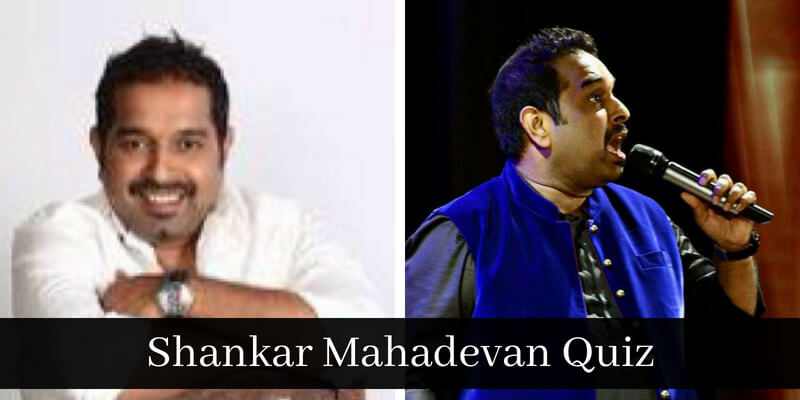 Take this Shankar Mahadevan quiz and check how much you can score
Author : Adiyogi Quiz Master
Posted On : 02-Jul-2018
Q1: Before chosing a full fledged career in music Shankar Mahadevan worked as a?
A. Software Programmer
B. Engineer
C. Physician
D. Chef
Q2: In his album "Breathless" he sang non stop for?
A. 3 minutes
B. 2 minutes
C. 5 minutes
D. 4 minutes
Q3: Shankar Mahadevan has done a jugalbandi in Raag Yaman with?
A. Bhimsen Joshi
B. Bade Ghulam Ali Khan
C. Malikarjun Mansur
D. Ustad Radhid Ali Khan
Q4: He sang for which group with Zakir Hussain,Chandan Sharma,John McLaughlin?
A. The Believer
B. Saturday Night in Bombay
C. Remember Shakti
D. Abhind
Q5: Shankar mahadevan has acted in which Doordarshan serial?
A. Dekh Bhai Dekh
B. Ek se Badhkar Ek
C. Hum Log
D. Ramayan
Q6: He was invited by UNESCO and the US State Department to perform for?
A. International Jazz Festival
B. International Music Festival
C. Tomorrowland
D. EDM Festival
Q7: Who are his two assosiates with whom he dabbed into composing music?
A. Ehsaan Noorani
B. Loy Mendusa
C. Hariharan
D. Both 1&2
Q8: Mahadevan came into limelight after his music album Breathless was released in ?
A. 1999
B. 2000
C. 1998
D. 1997
Q9: He was named Best Male Playback Singer for the song?
A. Bolo Na
B. Maa Thujhe Saalam
C. In Dino
D. Rishtey
Q10: He debuted as an actor in which movie?
A. Katyar Kalijat Ghusali
B. Jait re Jait
C. Samna
D. Vastupurush