How well do you know Sharmila Tagore, take this quiz?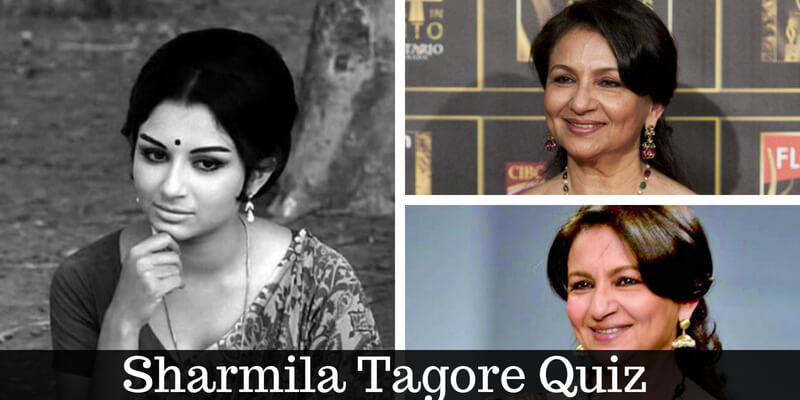 How well do you know Sharmila Tagore, take this quiz
Author : Adiyogi Quiz Master
Posted On : 06-Jul-2018
Q1: When was she born?
A. 08-Dec
B. 25-Jun
C. 12-Jan
D. 07-Nov
Q2: In which year Sharmila Tagore was honoured by Padma Bhusan?
A. 1998
B. 2000
C. 2012
D. 2013
Q3: Sharmila Tagore was chosen as the Goodwill Ambassador of?
A. WHO
B. UNICEF
C. UNESCO
D. Being Human
Q4: Sharmila debuted in a Bengali cinema directed by?
A. Ritwik Ghatak
B. Satyajit Ray
C. Rabindranath Tagore
D. Utpal Dutt
Q5: Sharmila Tagore was one of the International Competition's Jury Members in 2009 at the?
A. Berlin Film Festival
B. Toronto Film Festival
C. Cannes Film Festival
D. International Film Festival
Q6: Name the debut movie of Sharmila Tagore
A. The World of Apu
B. Mahanagar
C. Jalsaghar
D. Charulata
Q7: Sharmila was married to which famous Indian cricketer?
A. Rahul Dravid
B. Mansoor Ali Pataudi
C. Sunil Gavaskar
D. Kapil Dev
Q8: What was the other name of Sharmila Tagore?
A. Begum Ayesha Sultana Khan
B. Hamida Banu
C. Mariam
D. Waheeda
Q9: She was first actress to commercially don a?
A. Burkha
B. Bikini
C. Burkini
D. Ghagra
Q10: Name the childrens of Sharmila Tagore
A. Soha Ali Khan
B. Saif Ali Khan
C. Salman Ali Khan
D. Both1&2