Take this quiz and see how well you know about Shreya Ghosal?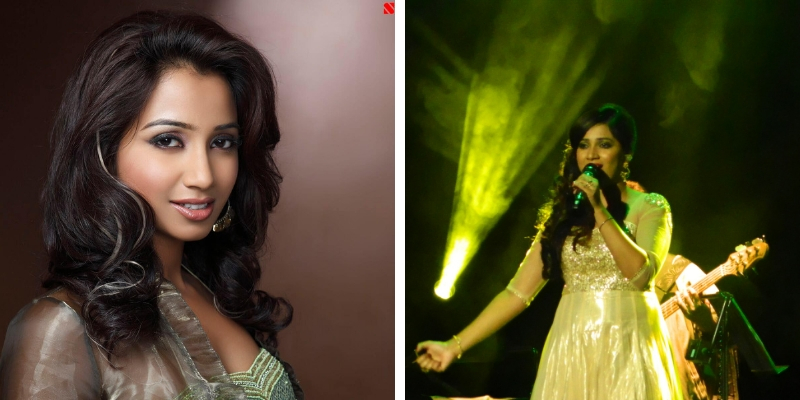 Shreya Ghoshal is known as one of the sweetest voices in the field of Indian playback singing. She has carved an image for herself as one of the top singers of Bollywood.
Author : Agniva Bhowmick
Posted On : 10-Feb-2019
Q1: When Shreya Ghoshal was born?
A. 15th Jan1970
B. 2nd Mar, 1980
C. 12 March 1984
D. 1st April,
Q2: How many Filmfare Awards she won?
Q3: What is the name of her first playback movie?
A. Devdas
B. Krishna Cottage
C. Ashiqui 2
D. Murder
Q4: From which reality he got a chance for playback?
A. Indian Idol
B. Sa Re Ga Ma Pa
C. Bharat Rockstar
D. India'S Raw Star
Q5: Which day was declared as "Shreya Ghoshal Day" by Ted Strickland?
A. 12th March
B. 13th April
C. 24th May
D. 26th June
Q6: Shreya was born in which city of West Bengal?
A. Baharampur
B. Barasat
C. kolkata
D. Jalpiguri
Q7: Who was the famous music director who convinced Sherya's parents to let her choose a career in playback singing?
A. Prtiam
B. Kalaynji
C. Jatin Lalit
D. Annu Mallik
Q8: Shreya won the National Award for this song...
A. Sun rha hai na tu
B. Silsila Ye Chaahat Ka
C. More Priya
D. Bairi Piya
Q9: Shreya has also appeared on screen for a song in this Bollywood film...
A. Paap
B. Saaya
C. Bodyguard
D. Ashiquie 2
Q10: She was nominated for how many songs in IIFA 2008?