Take this quiz and see how well you know about Svetlana Alexievich??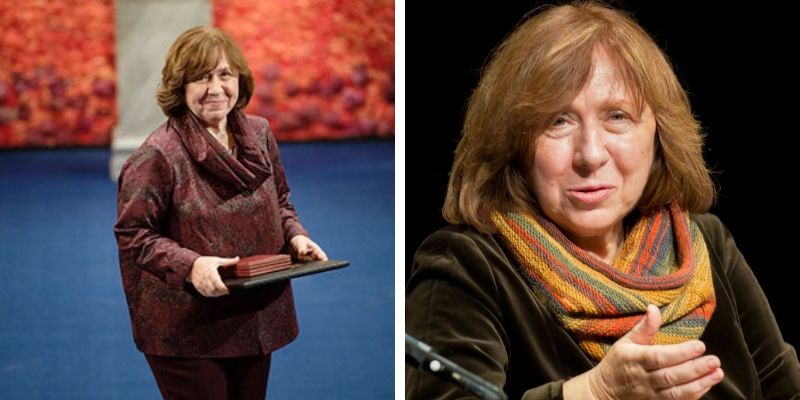 Svetlana Alexievich is a investigative journalist, essayist and oral historian who writes in Russian. During her career in journalism, Alexievich specialised in crafting narratives based on witness testimonies.
Author : Agniva Bhowmick
Posted On : 07-Jul-2019
Q1: What is last name of Svetlana Alexievich?
A. Alvino
B. Alexandrovna
C. Ghaynsj
D. Aljenda
Q2: Where was he born?
A. 31 May 1948
B. 26 May 1950
C. 31 May 1947
D. 23 May 1937
Q3: In which year she was awarded by Nobel Prize in Literature?
A. 2014
B. 2017
C. 2015
D. 2018
Q4: What is her nationality?
A. Spanish
B. Austrian
C. Brithish
D. Belarusian
Q5: What is the name of her first book?
A. Chernobyl Prayer
B. The Last Witnesses: the Book of Unchildlike Stories
C. War's Unwomanly Face
D. Enchanted with Death
Q6: When her first book was published?
A. 1985
B. 1987
C. 1989
D. 1991
Q7: How many copies were sold of her first book?
A. three million
B. one million
C. two million
D. four million
Q8: In which year she was awarded by Literaturnaya Gazeta Prize?
A. 1987
B. 1988
C. 1989
D. 1900
Q9: In which year she was awarded by Peace Prize of the German Book Trade ?
A. 2012
B. 2013
C. 2014
D. 2015
Q10: For which book she was awarded by Arthur Ross Book Award Bronze Medal given by the Council on Foreign Relations ?
A. Chernobyl Prayer
B. The Last Witnesses: the Book of Unchildlike Stories
C. Secondhand Tim
D. War's Unwomanly Face