Take this quiz and see how well you know about Cristiano Ronaldo??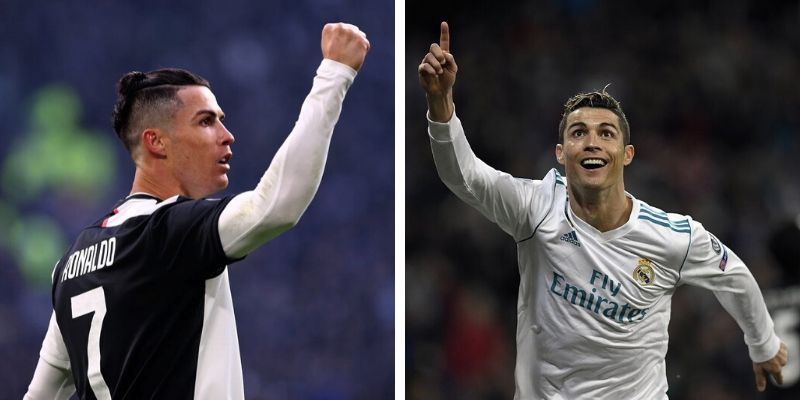 Cristiano Ronaldo is a Portuguese professional footballer who plays as a forward for Serie A club Juventus and captains the Portugal national team.
Author : Agniva Bhowmick
Posted On : 05-Feb-2020
Q1: What is the full name of Cristiano Ronaldo?
A. Cristiano Ronaldo do Sants Avi
B. Cristiano Ronaldo os Sants Aeio
C. Cristiano Ronaldo Huys Ndnu Gys
D. Cristiano Ronaldo dos Santos Aveiro
Q2: When was he born?
A. 5 February 1984
B. 5 February 1985
C. 5 February 1986
D. 5 February 1987
Q3: What squad number did a young Ronaldo wear at Sporting CP?
Q4: Which famous figure is he said to be named after?
A. Ronald Reagon
B. Messi
C. Ronnie Van
D. Christian Dior
Q5: Against which team did Ronaldo score his first ever goal for Manchester United?
A. ManU
B. Barcelona
C. Arsenal
D. Portsmouth
Q6: Ronaldo scored his first senior international goal in the opening game of Euro 2004, but who were Portugal playing?
A. Greece
B. Russia
C. Argentina
D. Brazil
Q7: By the age of 22 he was a forward and served as captain for which country?
A. Ireland
B. Portugal
C. Brazil
D. Russia
Q8: In which year did he win his first Ballon d'Or and FIFA World Player of the Year awards?
A. 2008
B. 2009
C. 2010
D. 2011
Q9: In the 2006 FIFA World Cup qualification in the European zone how many goals did he score
Q10: In September 2015, Ronaldo scored his 500th senior career goal for ?
A. Real Madrid
B. European Championship
C. Club and Country
D. Pele