Take this quiz and see how well you know about golden girl Hima Das??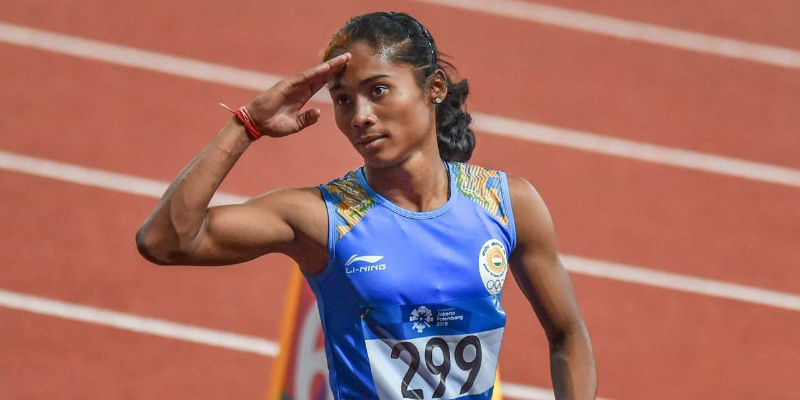 Hima Das is the first Indian athlete to win a gold medal in a track event at the IAAF World U20 Championships. Contents. Das is the second athlete from Assam after Bhogeswar Baruah to win a gold medal at an international event.
Author : Agniva Bhowmick
Posted On : 25-Dec-2019
Q1: When Hima Das was born?
A. 6 January 2000
B. 7 January 2000
C. 8 January 2000
D. 9 January 2000
Q2: He belongs from which state?
A. UP
B. Bangal
C. Assam
D. Odisha
Q3: What is the father's name of Hima Das?
A. Ramu Das
B. Ronjit Das
C. Rohon Das
D. Romio Das
Q4: What is her nickname?
A. Hemu
B. Hammu
C. Indian Express
D. Dhing Express
Q5: What was her timing that she clocked at the 2018 Asian Games in Jakarta, Indian national record in 400 metres?
A. 50.79s
B. 56.34s
C. 52.34s
D. 60s
Q6: In which championship did she win gold at an international track event, on 12 July 2018?
A. World U-20 Championships 2018
B. 2018 Asian Games
C. IAAF World U20 Championships.
D. 2018 Commonwealth Games
Q7: Hima Das gets which award by the president of India?
A. Padma Bhushan
B. Rajiv Gandhi khel Ratna
C. Dronacharya award
D. Arjun Award
Q8: Hima Das was appointed as India's first-ever youth ambassador of UNICEF-India on .....
A. 14th October 2018
B. 14th Decmber 2018
C. 14th November 2018
D. 14th September 2018
Q9: On which date did she win the 200m Gold in Poznan Athletics Grand Prix in Poland, with a time of 23.65 seconds?
A. June 3, 2019
B. April 5,2019
C. August 4, 2019
D. July 2, 2019
Q10: Which one signed an endorsement deal with Hima Das on September 2018?
A. Reebok
B. Adidas
C. Backrub
D. Nick