Take this Money Heist quiz and see how well you know about this series??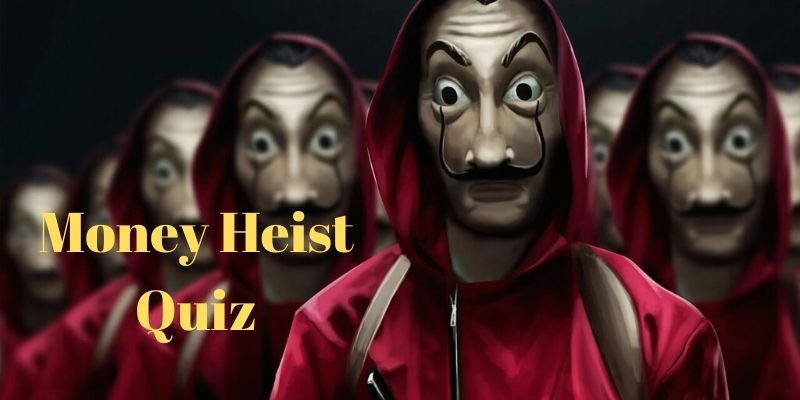 This is a quiz about the Spanish TV series "Money Heist" ("La casa de papel"). A team of robbers make it to the money printing factory and print money using.
Author : Agniva Bhowmick
Posted On : 07-Apr-2020
Q1: Inspector Raquel's Mother Suffers From What Medical Condition?
A. Post - Tramatic Strees Disorder
B. Schizoaffective Disorder
C. Paranoid Schizophrenia
D. Alzheimers Disease
Q2: How Much Currency Does The Gang Print At The Royal Mint?
A. 994 Million Euros
B. 984 Million Euros
C. 884 Million Euros
D. 904 Million Euros
Q3: With Regards To Good Relationship And Mutual Understanding, Which Among These Is A Wrong Pair?
A. Rio and Tokyo
B. Denver and Moscow
C. Berlin And Nairobi
D. Helsinki and Oslo
Q4: How Many Heists Had Berlin Pulled Off Before The Events Of 'Money Heist'?
Q5: Raquel's Mother Has How Many Daughters?
Q6: How Many Hostages Escaped During The Heist?
Q7: How Many Members Of The Original Team Die (or Are Presumed Dead) During The Course Of Money Heist?
Q8: Who Quoted This - "After All, What's More Human Than The Fight For Survival?"
A. Rio
B. The Professor
C. Barlin
D. Tokyo
Q9: What Is The Name Of Berlin's Girlfriend Who Comes To Visit At The Monastery?
A. Monica
B. Ariadna
C. Alicia
D. Tatiana
Q10: How many viewers it drew in first episode?
A. 4.5 million
B. 5 million
C. 5.5 million
D. 6 million