Take this quiz and see how well you know Pranab Mukherjee??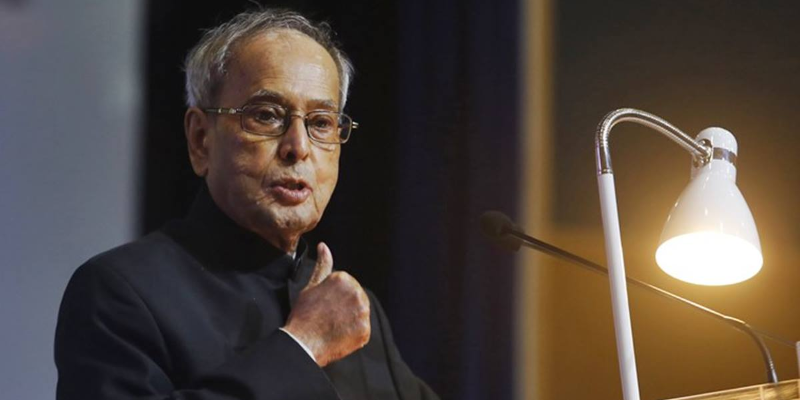 Pranab Mukherjee is an Indian politician who served as the 13th President of India from 2012 until 2017.
Author : Agniva Bhowmick
Posted On : 13-Aug-2020
Q1: When Pranab Mukherjee was born?
A. 08 December 1935
B. 09 December 1935
C. 10 December 1935
D. 11 December 1935
Q2: In which year did he become president of India?
A. 2012
B. 2013
C. 2014
D. 2015
Q3: What was his the period of serving Union Finance Minister?
A. 2008 to 2011
B. 2009 to 2012
C. 2010 to 2015
D. 2007 to 2014
Q4: In which year was he awarded by Bharat Ratna?
A. 2016
B. 2017
C. 2019
D. 2018
Q5: Who did help him get elected to the Rajya Sabha, the upper house of Parliament of India?
A. Indira Gandhi
B. Sanjay Gandhi
C. Manmohan Singh
D. Rajib Gandhi
Q6: In which year did he form Rashtriya Samajwadi Congress?
A. 1989
B. 1990
C. 1991
D. 1992
Q7: Who did appoint him Planning Commission head in 1991 and foreign minister in 1995?
A. Rajiv Gandhi
B. Rahul Gandhi
C. Manmohan Singh
D. P. V. Narasimha Rao
Q8: Did he held how many key cabinet portfolios during the period of Manmohan Singh?
Q9: In which year Pranab Mukherjee did become Deputy Leader of the INC in the Rajya Sabha, and in 1980 he was appointed Leader of the House?
A. 1979
B. 1980
C. 1981
D. 1982
Q10: When Pranab Mukherjee did resign from the government ?
A. 27 June 2012
B. 26 June 2012
C. 25 June 2012
D. 24 June 2012