Take this Rabindranath Tagore quiz and see how well you know about him??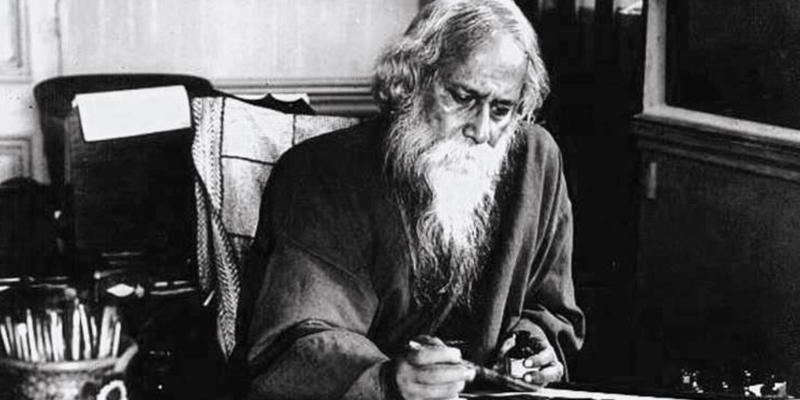 Rabindranath Tagore wasn't just the first Asian to win a Nobel prize, but also the first Non-European to mark his prominence in literature.
Author : Agniva Bhowmick
Posted On : 07-May-2020
Q1: When Rabindranath Tagore was born?
A. 7 May 1841
B. 9 May 1845
C. 17 May 1961
D. 7 May 1861
Q2: What is the real surname of Rabindranath Tagore?
A. Chaterjee
B. Kushari
C. Kushal
D. Naskar
Q3: In which year did he win Nobel Prize for Gitanjali?
A. 1900
B. 1913
C. 1923
D. 1986
Q4: At which age did he write released his first substantial poems under the pseudonym Bhānusiṃha ?
Q5: Which country national anthem was inspired by his work?
A. India
B. Pakistan
C. Bangladesh
D. Sri Lanka
Q6: Who did write preface of Gitanjali?
A. Michel Madhusudon Dutta
B. W.B. Yeats
C. J.B Micheal
D. Kaji Najru Islam
Q7: In which year Tagore's Nobel Prize medal was stolen in a theft at Shantiniketan?
A. 2004
B. 2007
C. 2000
D. 2011
Q8: Which scientist once invited Tagore at his home to talk about religion and science?
A. Thomas Alfa Edison
B. Stephen Hawkin
C. Jagadish Chandra Bose
D. Albert Einstein
Q9: In which year he renounced his 'Kinght' title for Jallianwala Bagh incident?
A. 1919
B. 1920
C. 1921
D. 1922
Q10: Which university did he found?
A. Calcutta University
B. Visva-Bharati University
C. Haydrabad University
D. JNU