How well do you know Dia Mirza, take this quiz and check?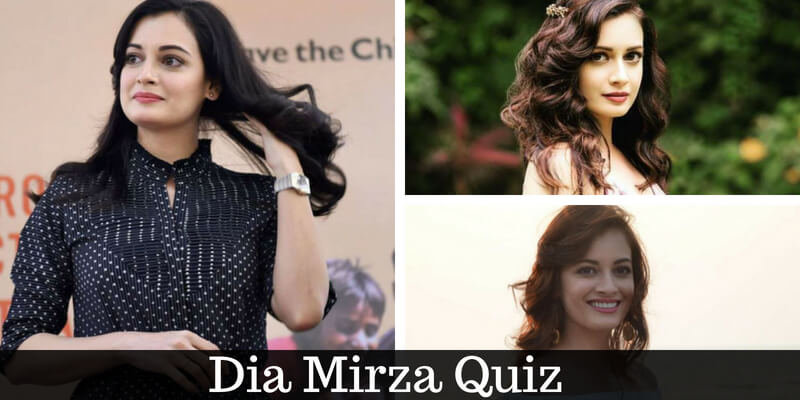 How well do you know Dia Mirza, take this quiz and check
Author : Adiyogi Quiz Master
Posted On : 06-Jul-2018
Q1: When was she born?
A. 08-Dec
B. 09-Dec
C. 12-Jan
D. 09-Jan
Q2: To which famous industrialist did Dia Mirza married
A. Sahil Sangha
B. Sameer Saran
C. Sunjay Kapur
D. Rahul Bajaj
Q3: What was the name of the first movie she acted in with his spouse?
A. Love Sex and Dhoka
B. Love Breakups Zindagi
C. Love Aaj Kal
D. Rehna hai tere dil mei
Q4: Dia was honoured with which award in the year 2000
A. Miss Asia Pacific
B. Femina Miss India
C. Miss world
D. Miss universe
Q5: In 2006 Dia was seized by the Customs Department and was alleged for the?
A. Evasion of taxes
B. Blackmarketing
C. 2G scam
D. Sex racket
Q6: Name the debut movie of Dia Mirza
A. Love Breakups Zindagi
B. Rehna Hai tere dil mei
C. Aawara
D. Alvida
Q7: Dia Mirza has generated a lot of praise for her social work for which she was awarded?
A. Gandhi Peace Prize
B. Champions of the Earth
C. Green Award
D. Golden green award
Q8: As a social worker she has publically supported and written articles for?
A. The Silent Valley Project
B. Tarun Bharat Sangh
C. Chipko Movement
D. Narmada Bachao andolan
Q9: Dia Mirza in 2000 as runner up for Femina Miss India has won other titles like?
A. Miss Closeup Smile
B. Miss Avon
C. Miss Beautiful Smile
D. All of the above
Q10: Dia along with Aamir Khan raised voice against ________ it earned her the ire of the activists from Bharatiya Janata Party?
A. Sardar Sarovar Project
B. Sher Shah Suri Marg
C. Narnada bachao
D. Chipko movement